The purpose of this article is to provide guidance to users on managing campuses
How to create a campus?
Navigate to the Courses page
Click on the Campus Name field
Click " + Create Campus"
The "Create a New Campus" screen is displayed
Enter the "Campus name" field
Click the "Create" button
The toast message "Campus was created successfully" is displayed
How to Edit Campus?
Each campus will consist of campus settings. Settings are divided into four sections: Campus Details, Integrations, API Key, Domain, Emails, Resources, Billing and Branding.

In order to navigate to campus settings, select the Campus Settings option in the side navigation on the left-hand side

Campus Details
In this section, an administrator can update the following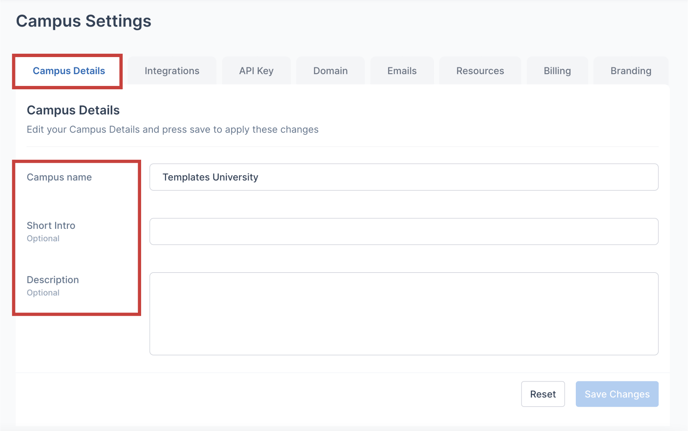 Campus Name - Name of the campus
Slug
Short Intro (optional) - Provide an introduction to your campus which will be reflected in the campus landing page
Description (optional) - Provides description of your campus which is reflected in the campus landing page
How to Delete Campus?
Navigate to Campus Settings

The "Campus Settings" screen is displayed

Campus Details tab

Click the "Delete campus" button

The "Delete the Campus" modal is displayed

Enter your Campus Name

Click the "Delete" button

The toast message "Campus was deleted successfully" is displayed